WeMatter.com > PaloAlto City > Flood
Flood/Water information: # (Weather)
Real Time Monitor Notice - Creek levels are only one indicator of potential flooding. Do not base decisions about safety and security of persons or property on this information.
San Francisquito Creek, discharge, at Stanford near the foothills, USGA. For comparison, during the 1998 floods, the reported peak was over 7,000 cfm.
Matadero Creek discharge, WSGAof interest to Midtown and Barron Park residents.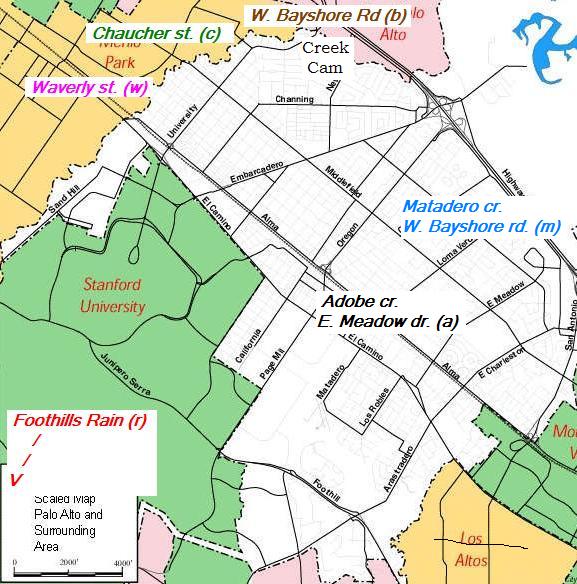 If you want warnings from the Palo Alto Online Please send questions about this list to webmaster @ PaloAltoOnline . com

---
Palo Alto Public works

The San Francisquito Creek Joint Powers Authority is tasked to address community concerns regarding flooding and environmental preservation on San Francisquito Creek ,

About the JPA , Executive Director: Cynthia D'Agosta, E-mail: sfcreekjpa@menlopark.org

Flood '98: Duveneck/St. Francis Neighborhood Association and the Creek Action Committee (formerly EDAR) Updated December 20, 2002.
---
San Francisquito Creek near flooding Dec 31,2005 Note: It did not [Other articles on flood]
San Francisquito Creek was flowing at a level of 19.7 feet at 10 a.m. this morning (Dec 31, 2005) at the Chaucer Street Bridge, with the creek capacity at 20 feet at the bridge. Palo Alto dispatch reported that the city's emergency operations center is being activated to deal with possible flooding.

A Menlo Park police officer at the bridge said that a high tide of almost 10 feet will reach the San Francisco Bay at the Peninsula about 11 a.m., and Menlo Park is predicting that the creek will flood at that point.

...

Palo Alto Vice Mayor Judy Kleinberg said city staff has gone door-to-door for people living near the creek to warn of possible flooding.
---
Home, Issues, Links, About us, Contact-us, The-book, Site-map, mailto: support,

January 4, 2006 1:14